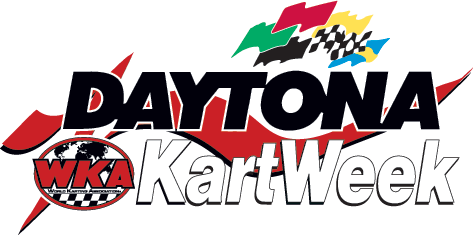 CONCORD, NC - The deadline for the first tier for entry fees for the latest edition of Daytona KartWeek Dec 27-30 for the WKA National Road Race Series, as well as the Bridgestone Manufacturers Cup/Winter Cup Series is fast approaching. Deadline for Tier 1 is Wednesday November 25 for competitors wishing to take advantage of the lowest pre entry rates. The second tier will kick in November 26, and run through December 11. After that, competitors will be required to pay the At Track fees.
Interest, as well as entries is pouring into the WKA Office everyday for the latest edition of the karting spectacle at the World Center of Racing, Daytona International Speedway. The event, which also includes the Unilli Dirt World Championships on the flat track, will be joined by the inaugural appearance of the WKA Winter Cup, comprised of a number of classes from the Mfg Cup and RLV Tuned Exhaust Products Gold Cup Series, running 2 different series at the same time, with points being accrued simultaneously in the 2 series.
To view the respective entry blanks and get your entries in, click on Racing Series on the WKA website, then click Daytona Entry blank under any and all of the 3 series.